National Seminar
How Come They Don't Show Up?: Assessment of No-Shows in Outpatient Palliative Care
Topic: Palliative Care Models by Setting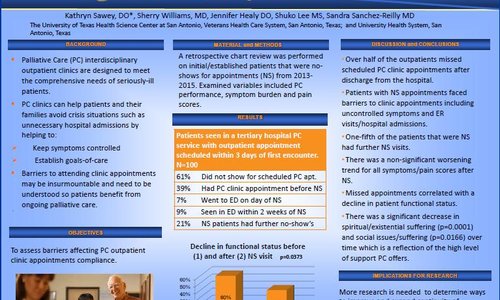 Background: Palliative care clinics (PCC) are designed to meet the needs of seriously-ill patients. PCC help patients and families deal with uncontrolled symptoms and establish goals-of-care to avoid crisis situations (unnecessary hospital admissions).
Methods: Retrospective chart review on initial/established patients with non-show appointments (NS) from 2013-2015. Examined variables included functional performance, symptom burden, and pain scores.
Results: N=100patients seen in PCC. Appointments were scheduled within 3 days of inpatient discharge. 61% were NS, 39% had PCC-appointment prior to NS. 7%=admitted to emergency room(ER) or hospital on day of NS and 9%=had ER visit within 2 weeks of NS. 21% of NS=had further NS. There was non-significant worsening trend for all symptoms/pain scores after NS. Palliative Performance Scores showed significant decline in functional status after NS with median score decrease from 60% to 40% (p=0.0373). There was a significant decrease in spiritual/existential suffering (p=0.0001) and social issues/suffering (p=0.0166) even with NS.
Conclusion: Patients with NS faced barriers such as uncontrolled symptoms, ER/hospital admissions. NS correlated with a decline in functional status. Patients had decrease in spiritual/social suffering, which may a reflection of the high-level of support PC offers.
Author
University of Texas Health Science Center San Antonio University Health System
5652 Lockhill Rd
San Antonio, TX 78240
(210) 870-8180
Co-authors
Jennifer Healy DO
Kathryn Sawey, DO*
Sandra Sanchez-Reilly MD
Sherry Williams, MD
Shuko Lee MS