National Seminar
How Come They Don't Come? Identifying Reasons of Non-Show Among a Palliative Care Outpatient Clinic
Topic: Palliative Care Models by Setting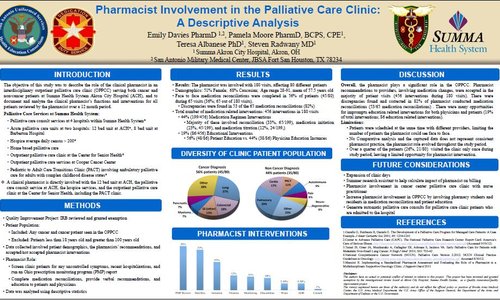 Palliative Care (PC) patients experience complex distress better addressed by an interdisciplinary PC outpatient clinic then by standard outpatient care. PC patients, like many patients, do not always keep appointments. These No Shows (NS) are missed appointments with no prior cancellation.
Objective: To assess factors associated with PC NS.
Methods:  A telephone survey of patients/caregivers was performed of NS patients for appointments from 11/2014-04/2015 using a 19 questions telephone script.
Results:  N =76. Female=39.  38 agreed to participate, 21 declined, and 17  non-working phone numbers. Reasons identified for NS: 10 hospitalized, 7 deceased,  6 too sick, 3 hospice, 5 never seen in clinic/ didn't know to attend, 4 no reminder call, 1 transportation, and 2 denied missing.  Prior visits reported as beneficial by 13/14 patients.  Benefits identified were: managing pain, symptoms and spiritual concerns.
Conclusion:   Patients with NS had many reasons for NS appointments such as hospitalization, symptom burden, and not knowing about appointment.  Developing a more systematic appointment reminder system might  free up appointments for other patients by removing deceased/hospitalized/hospice patients and make unaware patents better informed of appointments.  Also close follow-up phone calls after NS to triaging symptoms/issues that lead to NS and improve patient care.
Author
University Health System, University of Texas Health Science Center at San Antonio, South Texas Vetrans Healthcare System
5903 Babcock Road, Apt 903
San Antonio, TX 78240
(217) 620-1268
Co-authors
Amune Blessing
Carmen Sanchez, MHA
Jennifer Healy, DO
Sandra Sanchez-Reilly, MD
Shuko Lee, MS