National Seminar
Honoring Fallen Veterans with Memorial Procession
Topic: Specific Patient Populations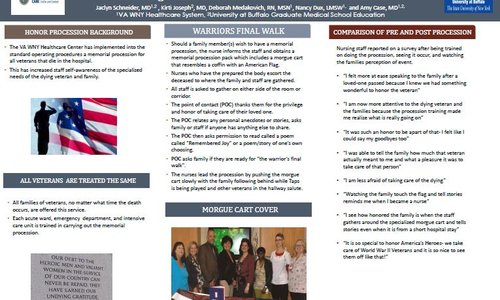 The VA WNY Healthcare Center has implemented into the standard operating procedures a memorial procession for all veterans that die in the hospital. This has increased staff self-awareness of the specialized needs of the dying veteran and family.  Should a family member(s) wish to have a memorial procession, the nurse informs the staff and obtains a memorial procession pack which includes a morgue cart that resembles a coffin with an American Flag. Nurses who have the prepared the body escort the deceased to where the family and staff are gathered.  All staff is asked to gather on either side of the room or corridor.  The POC thanks them for the privilege and honor of taking care of their loved one.  The POC relates any personal anecdotes or stories, asks family or staff if anyone has anything else to share. The POC then asks permission to read called a poem called "Remembered Joy" or a poem/story of one's own choosing.  POC asks family if they are ready for "the warrior's final walk". The nurses lead the procession by pushing the morgue cart slowly with the family following behind while Taps is being played and other veterans in the hallway salute.
Author
VA WNY Healthcare System
3495 Bailey Ave
Buffalo, NY 14215
(716) 862-8994
Co-authors
Amy Case, MD
Deborah Medakovich, RN, MSN
Kirti Joseph, MD
Nancy Dux, LMSW
Register Now
Register for the 2018 CAPC National Seminar and Pre-Conference Workshops by September 24 for Early Bird pricing.
Learn More and Register