National Seminar
Goal Setting in Primary Care (SAGE program)
Topic: Quality Advance Care Planning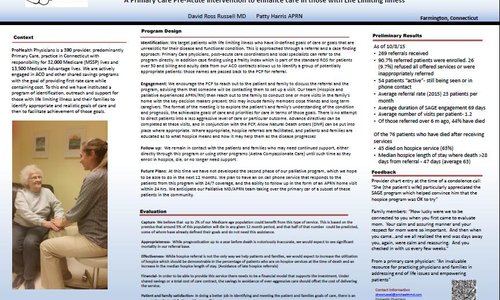 The SAGE (Sensible Assistance with Goals Evaluation) is a palliative program of ProHealth Physicians, a large (300+ provider) Primary Care group and ACO in Connecticut. Patients with life limiting illness or advanced frailty are identified and referred by their PCP or care manager. We contact the patient and family to arrange a home visit with the patient and key family support with our trained RN/APRN. The objective is to review current status and establish and communicate goals of care consistent with the patient's condition and wishes. When appropriate referral to hospice can be initiated, Advance Directives completed, and DNR arrangements made with the PCP's support.  When necessary, follow up visits or phone contact is maintained until the goals of care are established and are being implemented.
Outcomes under evaluation are rates of hospice utilization, median hospice length of stay, cost of care in the period prior to death, and patient and family satisfaction.
Target penetration is to reach at least 1% of our Medicare population (c 300 patients) each year. This is intended as the first stage of a more comprehensive program of home support for the patients with palliative needs prior to hospice eligibility..
Author
drossrussell@prohealthmd.com
950 Yale Ave
Wallingford, CT 09492
(203) 265-6900
Co-authors