National Seminar
Getting to Satisfaction: Collecting and Interpreting Referrer Satisfaction Data
Topic: Measuring Impact and Value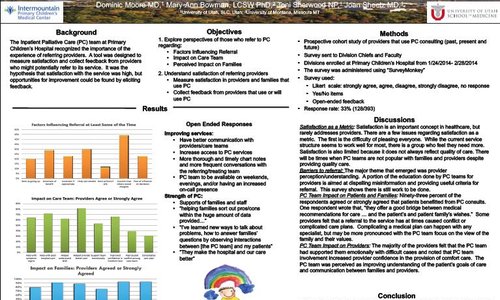 Rainbow Kids Palliative Care Team covers all inpatient units 5 days a week and maintains phone contact with patients after discharge. Referrals are generated by the primary medical team caring for the patient with no current trigger tool or checklist.  In designing our survey we found little published regarding referring clinician perception of Palliative Care services. We sought to design a useful tool, collect actionable data, analyze results, and reflect on how this process might be improved. 128 responses were received. 85% had referred to PCC in the past. 93.3% agreed/strongly agreed that PCC benefits patients. 71.1% agreed/strongly agreed that PCC makes useful recommendations for care after discharge and 63.5% felt PCC made useful recommendations for symptom management. 61% indicated that PCC involvement improved provider understanding of goals of care. 52% of those responding had been supported emotionally by the PCC team. 39.8% felt that PCC involvement had caused conflict among patients' care teams. Based on the data obtained the team was able to identify high priority issues and undertook PDSA cycles to address concerns with documentation and interaction with referrers. As with any measure of satisfaction, we found that some opinions of best practice among referrers were different and at times conflicting.
Author
Rainbow Kids Palliative Care, Primary Children's Hospital
2382 E Beacon Dr
Salt Lake City, UT 84108
(801) 662-3770
Co-authors
Joan Sheetz MD
Mary-Ann Bowman, LCSW PhD
Toni Sherwood NP
Register Now
Register for the 2018 CAPC National Seminar and Pre-Conference Workshops by September 24 for Early Bird pricing.
Learn More and Register