National Seminar
Formation Of The Global Palliative Care Quality Alliance: A Cooperative Group Dedicated To The Advancement Of Quality Within Palliative Care
Topic: Advocacy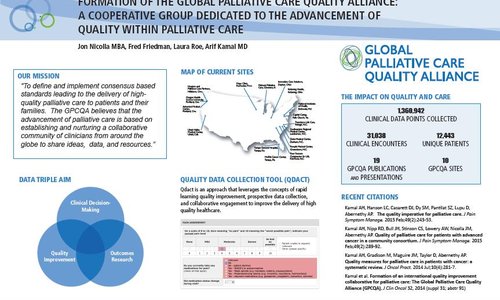 The Global Palliative Care Quality Alliance is a volunteer network of community-based palliative care organizations striving to enhance the quality of palliative care delivery through coordinated data collection, regular sharing of best practices, and collaborative quality improvement.  The Alliance prioritizes quality measurement and sustainable improvements in community-based palliative care settings, through a unique partnership between community-based practices and academic medical centers.  Participating sites collect data on quality near point of care using a Alliance-derived software system; those data are then used to inform quality measure adherence, benchmarking across sites, performance improvement efforts, and health services and outcomes research.  To date, the Alliance has collected data on quality on over 34,000 patient encounters and has completed three impactful rapid cycling quality improvement initiatives.  Further, research on disparities among racial populations, differences in unmet needs by disease types (e.g. cancer vs. non-cancer) and care locations (inpatient vs. outpatient vs. home), and development of novel caregiver quality measures have significantly impacted how participating sites provide palliative care. Additionally, regular conference calls, a national meeting on quality, and collaborative participation in projects ensure engagement and a sense of community by all.
Author
Director, Quality and Outcomes
Duke Cancer Institute
210 Graduate Ct.
Durham, NC 27713
(919) 681-0333
Co-authors
Fred Friedman
Jon Nicolla MBA
Laura Roe
Register Now
Register for the 2018 CAPC National Seminar and Pre-Conference Workshops by September 24 for Early Bird pricing.
Learn More and Register