National Seminar
The Forgotten Organ Donor: A Call for Greater Palliative Care Involvement
Topic: Specific Patient Populations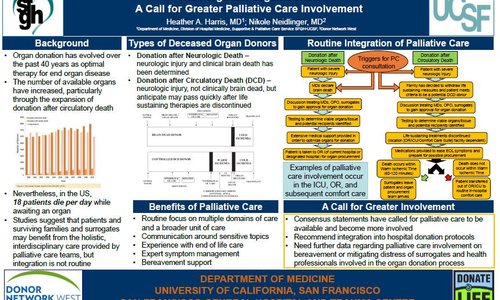 Organ donation has evolved over past 40 years as optimal therapy for patients with end organ disease.  Recent efforts have increased available organs, particularly through the expansion of donation after cardiac death (DCD) donation, yet great need remains with an estimated 18 patients dying per day while awaiting an organ. Just as in other instances of end-of-life care, palliative care programs have expertise which may enhance the care of donors, surrogates/family, and health care providers, but palliative care is not yet routinely integrated.  It may be argued that expertise in communication around end-of-life decision making and complex medical concepts such as brain death or donation after death has been declared by cardiopulmonary criteria, expert symptom management for actively dying patients, and a holistic, interdisciplinary focus on family support and bereavement would particularly benefit these end-of-life situations.
This poster will address:  
criteria for becoming a deceased organ donor and review clinical tools used for predicting possible DCD candidates
review processes of organ donation for deceased donors
best practices in interfacing with organ procurement agencies and conversations with surrogates about organ donation
review the literature base demonstrating significant palliative care needs for surrogates in these situations, and
how some palliative care programs have integrated themselves into standard care
Author
San Francisco General Hospital & Trauma Center
Box 8062
San Francisco, CA 94110
(415) 206-3786
Co-authors
Register Now
Register for the 2018 CAPC National Seminar and Pre-Conference Workshops by September 24 for Early Bird pricing.
Learn More and Register