National Seminar
The FM Effect on EoL Decisions for AAs by Medical Surrogates
Topic: Quality Advance Care Planning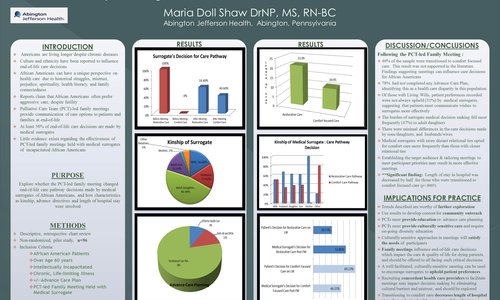 FM=Family Meeting; EoL=End-of-Life; AA=African American; LW=Living Will; LOS=Length of hospital stay; PCT=Palliative Care Team
A Retrospective pilot study of 96 EMRs of incapacitated, hospitalized, AA suffering with life limiting illnesses whose medical surrogates participated in a PCT-led family meeting to determine decisions for end-of-life care.  Patient median age was 78 years.  72% female.  13.5% had a LW, and 69.2% were upheld by the surrogates.  45.8% of surrogates were the adult daughters.  The average LOS was 17+12.6 days.  However, for those who transitioned to comfort focused care following the PCT-led FM = 40.6%, their LOS was decreased to10.9+8.6 days.  Conclusion:  PCT-led FMs can be effective interventions for this patient population at E-o-L.  Few in this sample had LWs, but if they did, they were generally upheld by the surrogates; and so are fairly reliable as a tool to provide the care pathway patients prefer when they are unable to advocate for themselves.  The burden of E-o-L decision-making often falls to the adult daughter.  Knowing in advance characteristics and priorities of meeting participants can assist PCTs as they prepare for these FMs.  Finally, organizations as well as patients can benefit from a decreased LOS in the acute care setting because they transitioned to the comfort focused care pathway.
Author
Clinical Nurse Manager, Palliative Care Service
Abington Hospital, Jefferson Health
517 S. Schuylkill Ave.
Abington, PA 19403
(215) 481-8713
Register Now
Register for the 2018 CAPC National Seminar and Pre-Conference Workshops by September 24 for Early Bird pricing.
Learn More and Register