National Seminar
The Family Meeting: A "Procedure" for Medicine Residents
Topic: Education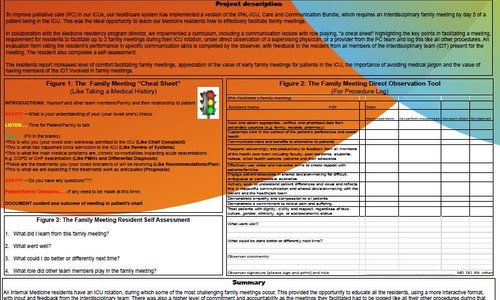 To improve palliative care (PC) in our ICUs, our healthcare system has implemented a version of the IPAL-ICU, Care and Communication Bundle, which requires an interdisciplinary family meeting by day 5 of a patient being in the ICU. This was the ideal opportunity to teach our Medicine residents how to effectively facilitate family meetings.
In collaboration with the Medicine residency program director, we implemented a curriculum, including a communication lecture with role playing, "a cheat sheet" highlighting the key points in facilitating a meeting, requirement for residents to facilitate up to 2 family meetings during their ICU rotation, under direct observation of a supervising physician, or a provider from the PC team and log this like all other procedures. An evaluation form rating the resident's performance in specific communication skills is completed by the observer, with feedback to the resident from all members of the interdisciplinary team (IDT) present for the meeting. The resident also completes a self-assessment.
The residents report increased level of comfort facilitating family meetings, appreciation of the value of early family meetings for patients in the ICU, the importance of avoiding medical jargon and the value of having members of the IDT involved in family meetings.
Author
Medical Director Palliative Care
St. Joseph's Hospital and Medical Center
12201 N 68th Place
Scottsdale, AZ 85254
Co-authors