National Seminar
Extending Your Reach – Using Video Visits at Home
Topic: Leveraging Technology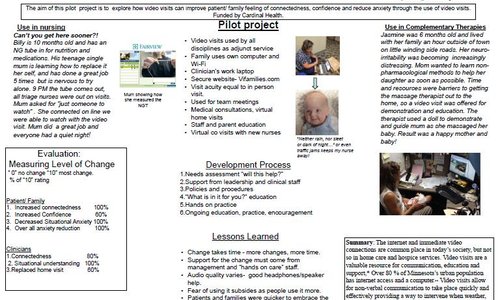 The internet and immediate video connections are common place in today's society, but not so in home care and hospice services. Video visits are a valuable resource for communication, education and support. (Oliver, D et al 2012)  Over 80 % of Minnesota's urban population has internet access and a computer (http://www.ruralmn.org, 2012). Video visits, allow for non verbal communication to take place quickly and effectively providing a way to intervene when weather, traffic or staffing issues cause delays.  This pilot program explores the effects of providing real time video connection between staff lap top and patients or families home computer. The video platform is a HIPPA secure web site, provides a virtual "office", waiting room and requires no down load, allowing family members, the medical team  and others to meet virtually at any time. Data was collected from both staff and patients/ families on the effect of video visits on anxiety level, feelings of connectedness to the team and confidence in care. This project shows how integrating video visits into a larger plan of care can benefit patients, families and the program. Timeline, strategies and lessons learned will be discussed.
Author
Fairview Home Care and Hospice/ University of Minnesota Masonic Children's Hospital
2450 26th Ave South
Minneapolis, MN 55406
(612) 728-2389
Register Now
Register for the 2018 CAPC National Seminar and Pre-Conference Workshops by September 24 for Early Bird pricing.
Learn More and Register