National Seminar
Examining Use of Advance Directives in Oncology Patients
Topic: Quality Improvement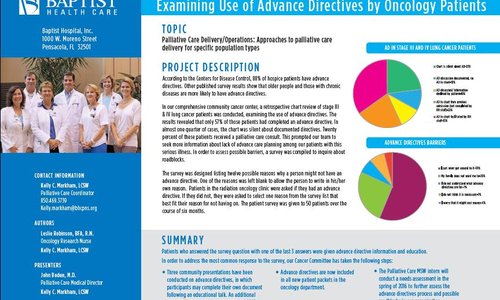 In our cancer center, a retrospective chart review was conducted of stage III & IV lung cancer patients, examining the use of advance directives.  The results revealed that only 57% of those patients had completed an advance directive.  In almost one quarter of cases, the chart was silent about documented directives.  This prompted our team to seek more information about lack of advance care planning among our patients with this serious illness.  Several possibilities were discussed:  lack of initiation of discussion by physician and/or staff, patient resistance, or other reasons.  In order to assess these barriers, a survey was compiled to inquire about roadblocks.  Currently it is being used in our radiation oncology clinic.  At this time, 26 patients have completed the survey.  Initial responses indicate that most patients "just never got around to doing it."  The survey will continue to be utilized to obtain more information about barriers.  Results of this survey, when concluded, will direct our cancer center's efforts to increase the understanding and completion of advance directives among our patients.   Information already gained during these two projects has led us to expand to plan a system wide needs assessment about the advance care planning process in our organization.  This will be initiated in the spring of 2016.
Author
Palliative Care Coordinator
Baptist Hospital, INC.
1000 W. Moreno St.
Pensacola, FL 325501
(850) 469-3739
Register Now
Register for the 2018 CAPC National Seminar and Pre-Conference Workshops by September 24 for Early Bird pricing.
Learn More and Register