National Seminar
Evaluating the State of Palliative Care in Colorado
Topic: Advocacy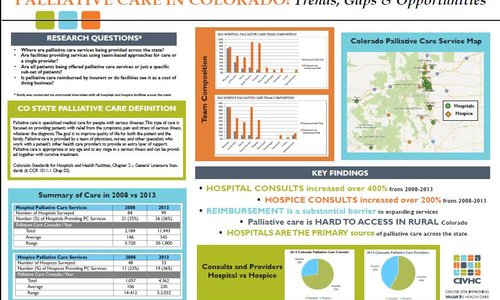 In 2013, the Center for Improving Value in Health Care commissioned a study to look at the extent and depth of palliative care provision across  Colorado. The goal of the study was to evaluate: 1) the availability of hospital and community-based palliative care and 2) what services are provided as part of these palliative care programs. At the end of the study we compared the results to a similar study conducted in 2008. The results will be used to drive payment reforms and to inform policy changes to better support provision of and access to palliative care.
The results showed a significant increase in the number of palliative care consults provided, but little to no increase in the number of providers or providing facilities. Providing facilities used team-based care in a large number of cases, though reimbursement issues mean that hospital-based programs can provide more robust team-based care than community-based programs. The distribution of faciities and programs also emphasized a severe lack of access to services in the rural areas of the state. Identified challenges to expanded provision of services included reimbursement, workforce, cultural misunderstanding, and access. We are working with partners to develop programs to address these challenges.
Author
Director of Health Care Programs
Center for Improving Value in Health Care
950 S. Cherry St., #208
Denver, CO 80246
(720) 242-7048
Register Now
Register for the 2018 CAPC National Seminar and Pre-Conference Workshops by September 24 for Early Bird pricing.
Learn More and Register