National Seminar
Enhancing Care at End of Life through Transition to Hospice
Topic: Continuity of Care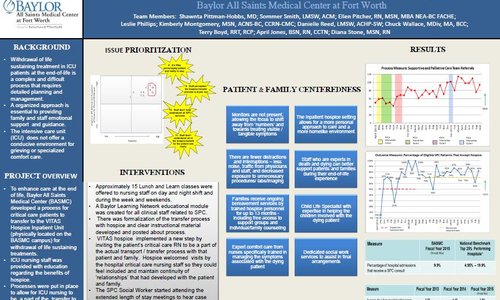 Patients who were at the end of life and required planned withdrawal of treatment often had withdrawal take place in the ICU and not in the optimal environment for grieving or allow them access to the specialized knowledge and support services provided by hospice at end of life. The importance of this need is emphasized in a study in the Journal of Clinical Oncology (Wright, 2010) stating that among caregivers, 21% of those whose loved ones died in the ICU or hospital developed PTSD six months later compared to 4.4% of those whose loved ones died at home with hospice. Baylor All Saints Medical Center (BASMC) developed a process for critical care patients to transfer to a more home like environment of the VITAS Hospice Inpatient Unit (located on the BASMC campus) for withdrawal of life sustaining treatments. ICU nursing staff was provided with education about the benefits to hospice and processes were put into place that allowed for nursing to be a part of their patient's transfer to hospice. Improvements resulted in an increase of nursing staff understanding of hospice benefits and baseline of 0% of patients/families agreeing to transfer to hospice for planned withdrawal of life sustaining treatment to 70%+ agreeing.
Author
Director, Comprehensive Care Management, Supportive & Palliative Carer
Baylor All Saints Medical Center at Fort Worth
6805 Glen Eagle Dr.
Arlington, TX 76001
Co-authors
April Jones, BSN, RN, CCTN
Chuck Wallace, MDiv, MA, BCC
Danielle Reed, LMSW, ACHP-SW
Diana Stone, MSN, RN
Ellen Pitcher, RN, MSN, MBA NEA-BC FACHE
Kimberly Montgomery, MSN, ACNS-BC, CCRN-CMC
Leslie Phillips
Shawnta Pittman-Hobbs, MD
Sommer Smith, LMSW, ACM;
Terry Boyd, RRT, RCP;
Register Now
Register for the 2018 CAPC National Seminar and Pre-Conference Workshops by September 24 for Early Bird pricing.
Learn More and Register