National Seminar
End-of-Life Care for Dementia Patients in the Program of All-inclusive Care for the Elderly (PACE): A Quality of Care Assessment
Topic: Specific Patient Populations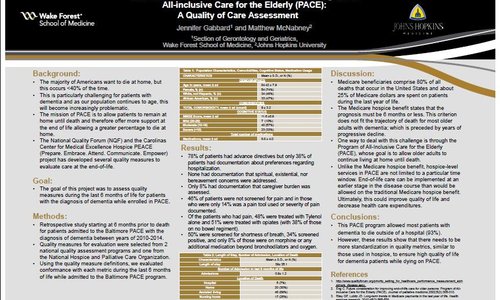 Background: The majority of Americans want to die at home, but this particularly challenging for patients with dementia. The mission of PACE is to allow patients to remain at home until death. The goal of this project was to assess quality measures during the last 6 months of life for patients with the diagnosis of dementia while enrolled in PACE. Methods: Retrospective study starting at 6 months prior to death for patients on PACE with dementia. Results: 70 charts were reviewed. 78% of patients had advance directives but only 38% of patients had documentation about preferences regarding hospitalization. None had documentation that spiritual, existential, nor bereavement concerns were addressed. 46% of patients were not screened for pain. 50% were not screened for shortness of breath, and of those who were only 8% were on morphine or any additional medication beyond bronchodilators and oxygen. The average rate of admissions in the last 6 months of life was only 0.9 with only 7% of patients dying in the hospital. Conclusion: This PACE program allowed most patients with dementia to die outside of a hospital. However, there needs to be more standardization in quality metrics to ensure high quality of life for dementia patients while dying on PACE.
Author
Assistant Professor
Wake Forest University
2336 Hartfield circle
Winston Salem, NC 27103
Co-authors
Register Now
Register for the 2018 CAPC National Seminar and Pre-Conference Workshops by September 24 for Early Bird pricing.
Learn More and Register