National Seminar
Effects of a Self-Care Program in a Palliative Care Setting
Topic: Team Wellness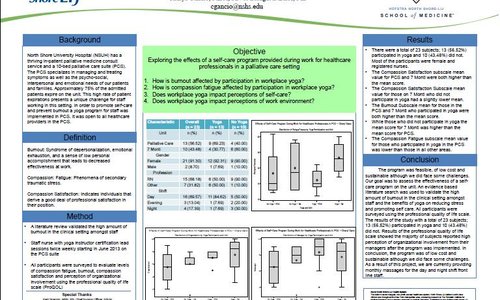 North Shore University Hospital's Palliative Care Suite (PCS) specializes in managing and treating symptoms and the emotional needs of patients and families. Approximately 80% of the admitted patients expire on the unit. This high rate of patient expiration presents a unique challenge for staff. In order to promote self-care and prevent burnout we implemented a yoga program for the providers in the PCS. The objective of this study was to assess the effects of staff participation in yoga sessions on burnout, compassion fatigue, and self-care. A fellow nurse certified yoga instructor was identified to run each session. Participation waivers were obtained from all staff. The yoga program started in June 2013 once to twice weekly in the PCS. Participants were surveyed to evaluate compassion fatigue, burnout and perception of organizational involvement using the professional quality of life scale (ProQOL). There were a total of 23 subjects; 13 (56.52%) participated in yoga and 10 (43.48%) did not. Results showed no difference in compassion fatigue. The majority of subjects reported high perception of organizational involvement from their managers after the program was implemented. The program was feasible, of low cost, sustainable, and identified the value of support from management to improve practitioner self care and burnout.
Author
North Shore University Hospital Palliative Care Suite
300 Community Drive
Manhasset, NY 11030
Co-authors
Register Now
Register for the 2018 CAPC National Seminar and Pre-Conference Workshops by September 24 for Early Bird pricing.
Learn More and Register