National Seminar
Effectiveness of a Mobile Mentoring PC Team
Topic: Staffing Models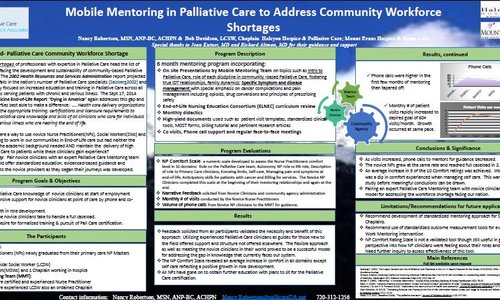 Significant hurdles face the development and sustainability of community based palliative care programs.  Workforce shortages of qualified clinicians with expertise in palliative care head the list of major obstacles. In an effort to meet this clinician deficit, a novel pilot program was developed.  A mobile mentoring team comprised of a palliative care certified NP and an experienced palliative care LCSW/Chaplain was created.  This team joined forces with two community hospice programs with the goal of addressing this challenge. 
Adhering to national standards and guidelines of care, the NP mentor paired with the inexperienced NPs.  Using standardized curriculum, monthly mentoring meetings and full phone access, the NP mentor championed the mission to increase the new NPs PC knowledge from the beginning. The LCSW/Chaplain mentor worked with inexperienced social workers and chaplains, providing numerous educational meetings, coaching and support.  In addition, joint sessions were conducted by both mentors with the palliative care team members to address role differentiation, fostering true IDT relationships and to review case studies.  
The results indicate that the combined efforts of a mobile mentoring team with community organizations is a successful model to meeting the overwhelming demand for qualified palliative care clinicians in the community.
Author
PCDA NP Mentor
Palliative Care Development Associates
5981 Bluebell LN
Evergreen, CO 80439
(720) 312-1256
Co-authors