National Seminar
Educating the Interdisciplinary Team about Palliative Care: An Evidence-Based Project
Topic: Education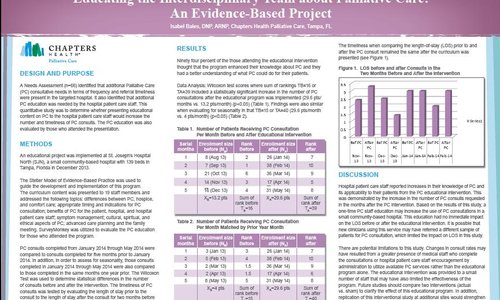 An educational project was implemented at St. Joseph's Hospital North (SJN), a small community-based hospital with 139 beds in Tampa, Florida in December 2013.  The Stetler Model of Evidence-Based Practice was used to guide the development and implementation of this program.  The curriculum content was presented to 19 staff members and addressed the following topics: differences between PC, hospice, and comfort care; appropriate timing and indications for PC consultation; benefits of PC for the patient, hospital, and hospital patient care staff; symptom management; cultural, spiritual, and ethical aspects of PC; advanced care planning and the family meeting.  Survey Monkey was utilized to evaluate the PC education for those who attended the program.  PC consults completed from January 2014 through May 2014 were compared to consults completed for five months prior to January 2014. In addition, in order to assess for seasonality, those consults completed in January 2014 through May 2014 were also compared to those completed in the same months one year prior.  The Wilcoxon Test was used to determine statistical differences in the number of consults before and after the intervention. The timeliness of PC consults was tested by evaluating the length of stay prior to the consult to the length of stay after the consult for two months before and after the educational intervention.
Author
Nurse Practitioner
Chapters Health System
Chapters Health System
Tampa, FL 33647
(309) 338-2369
Register Now
Register for the 2018 CAPC National Seminar and Pre-Conference Workshops by September 24 for Early Bird pricing.
Learn More and Register