National Seminar
Disseminating End of Life Nursing Education throughout a Hospital System
Topic: Education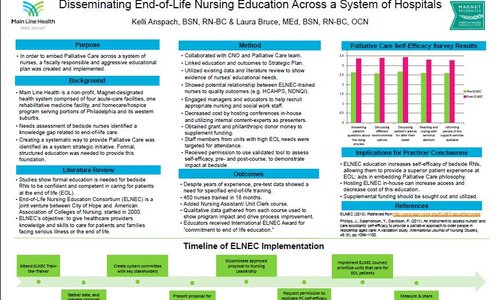 Two nurse educators working to disseminate end of life education for nurses in a four hospital acute-care health system. Goals are to enlist nurses' support to increase palliative care utilization, to strengthen knowledge, competence and confidence in end of life care and ultimately improve the patient and family experience.   A proposal was created to garner leadership support using needs assessment statistics and linking learning objectives to the system's strategic plan and forces of magnetism. Potential barriers, plans to overcome obstacles, and the logistics of providing consistent education were discussed.  Target units were identified for year-one goals.  Grant money was awarded through a community partnership and supplemented by a family donation.  Additional community resources were employed by incorporating Home Care partners and using local experts as speakers.  Impact evaluation of the program, IRB exempt, includes a pre- and post- self-efficacy survey using the Palliative Care Self Efficacy Scale, with two qualitative questions and ongoing evaluation of HCAHP scores.  In order to sustain support for education HCAHPS scores of target units will be followed to determine if there is a relationship between attendance of the course with higher patient satisfaction scores.
Author
Bryn Mawr Hospital, Main Line Health
130 S. Bryn Mawr Avenue
Bryn, PA
(215) 350-2108
Co-authors
Laura Bruce, MEd, BSN, RN-BC, OCN
Register Now
Register for the 2018 CAPC National Seminar and Pre-Conference Workshops by September 24 for Early Bird pricing.
Learn More and Register