National Seminar
Development of Palliative Care Guidelines in Singapore
Topic: Specific Patient Populations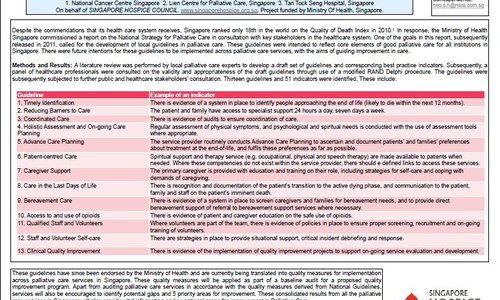 Development of Palliative Care Guidelines in Singapore
PSH Neo, TJ Lo, JKL John, CM Yee, A Lee.
Background:
Despite its renowned healthcare system, Singapore ranked 18th in the world on the Quality of Death Index.[1] In response, the Ministry of Health Singapore commissioned a report on the National Strategy for Palliative Care. This report, released in 2011, called for the development of local guidelines in palliative care to reflect core elements of good palliative care for all institutions in Singapore.
Aim:
This poster describes the development of the Guidelines for Palliative Care in Singapore.
Method:
A literature review was performed by local palliative care experts to develop a draft set of guidelines and corresponding best practice indicators. Subsequently, a panel of healthcare professionals were consulted on the validity and appropriateness of the draft guidelines through use of a modified RAND Delphi procedure. The guidelines were subsequently subjected to further public and healthcare stakeholders' consultation.
Results:
Thirteen guidelines and 51 indicators were identified.
Conclusion:
These guidelines have since been endorsed by the Ministry of Health and are currently being implemented across palliative care services in Singapore.
[1]The Quality of Death. Ranking end-of-life care across the world. Available online: http://graphics.eiu.com/upload/eb/qualityofdeath.pdf Last accessed 20th August 2015
Author
Deputy Head, Consultant
National Cancer Centre Singapore
11 Hospital Drive
Singapore 169610
Co-authors
Dr Angel Onn Kei Lee
Ms Geraldine Kheng Lin John
Register Now
Register for the 2018 CAPC National Seminar and Pre-Conference Workshops by September 24 for Early Bird pricing.
Learn More and Register