National Seminar
Developing a Protocol for Home Diuresis of Patients with Advanced Heart Failure
Topic: Specific Patient Populations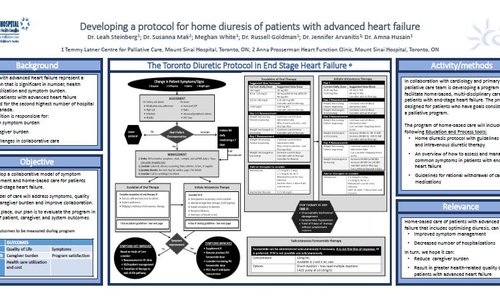 Patients with advanced heart failure represent a population that is significant in number, health system utilization, and symptom burden. The condition is responsible for a high burden of hospitalization for symptoms that are associated with high mortality, and currently difficult to manage in the ambulatory setting.
To address this patient and system burden we are developing a collaborative model of symptom management and home-based care for patients with advanced heart failure.
In collaboration with cardiology and primary care, our palliative care team is developing a program to facilitate home-based, multi-disciplinary care for patients with advanced heart failure. The program aims to develop education and process tools to advance home-based care of this population. These include a home diuresis protocol with guidelines for oral and intravenous diuretic therapy; an overview of how to assess and manage common symptoms in patients with advanced heart failure and guidelines for rational withdrawal of cardiac medications.
Home-based care of patients with advanced heart failure that includes optimizing diuresis, can lead to improved symptom management and a decreased number of hospitalizations. In turn, we hope it can reduce both patient and system burden and result in greater health-related quality of life for patients.
Author
Temmy Latner Centre for Palliative Care, Mount Sinai Hospital
60 Murray St, 4th floor, Box 13
Toronto
Co-authors
Dr. Amna Husain
Dr. Jennifer Arvanitis
Dr. Russell Goldman
Dr. Susanna Mak
Meghan White