National Seminar
Cultivating a Culture of Primary Palliative Care
Topic: Education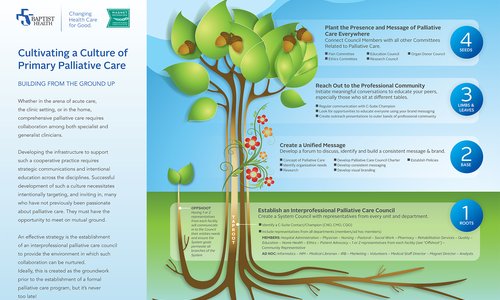 Whether in the arena of acute care, the clinic setting, or in the home, comprehensive palliative care requires collaboration among both specialist and generalist clinicians.  Developing the infrastructure to support such a cooperative practice requires strategic communications and intentional education across the disciplines.  Successful development of such a culture necessitates intentionally targeting, and inviting in, many who have not previously been passionate about palliative care.  They must have the opportunity to meet on mutual ground.  One hospital system has found establishment of an interprofessional palliative care council to be the environment in which such collaboration can be nurtured.  Additionally, there is great value in developing this foundation prior to the building of a formal palliative care program.  Therefore, an interdisciplinary council is a powerful tool for both those organizations with mature palliative programs and those who are still in the planning stages.
Author
Baptist Health
800 Prudential Drive
Jacksonville, FL 32207
(904) 202-3409
Register Now
Register for the 2018 CAPC National Seminar and Pre-Conference Workshops by September 24 for Early Bird pricing.
Learn More and Register