National Seminar
Creating an Acuity and Productivity Measurement Tool for an Inpatient Palliative Care Service
Topic: Screening for Palliative Care Patients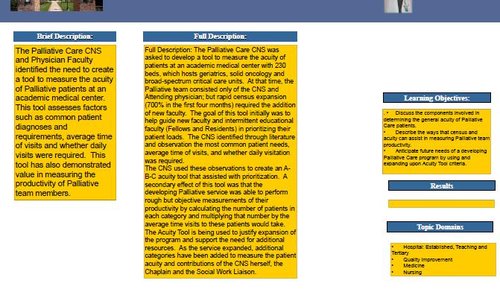 The Palliative Care CNS and Physician Faculty identified the need to create a tool to measure the acuity of Palliative patients at an academic medical center. This tool assesses factors such as common patient diagnoses and requirements, average time of visits and whether daily visits were required.  This tool has also demonstrated value in measuring the productivity of Palliative team members.
Author
Santa Monica UCLA Medical Center
19350 Sherman Way Unit 105
Reseda, CA 91335
(424) 259-8161
Register Now
Register for the 2018 CAPC National Seminar and Pre-Conference Workshops by September 24 for Early Bird pricing.
Learn More and Register