National Seminar
Complex Lives, Comprehensive Services
Topic: Pediatrics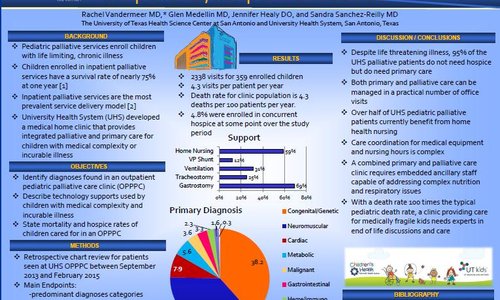 Background: Pediatric palliative services nationwide enroll children with life-limiting, but not acutely life-threatening chronic illness. Children receiving inpatient palliative services, the most prevalent service delivery model, have a one year survival rate of nearly 75%. In response to the long survival rate and the need for outpatient palliative services, University Health System (UHS) developed a medical home clinic that provides integrated palliative and primary care for children with medical complexity or incurable illness.
Methods: A retrospective chart review was performed for all patients seen in the UHS Comprehensive Care Clinic (UHS-CCC) between September 2013 and February 2015.
Results: In a 1.5 year period, the UHS-CCC performed 2338 visits for 359 children, average=4.3 visits/patient/year. 66%=had gastrostomy for nutrition. 25%=had tracheostomy. 30.3%=required ventilator support. 56.9%=received home health nursing. The death rate=4.3 deaths/100 patients/year. 4.8%=enrolled in concurrent hospice at some point over the study period. The breakdown of diagnoses was: 41.5%=neuromuscular, 33.5%=congenital, 5.3%=oncologic, 1.6%=respiratory, 5.9%=cardiovascular, 4.3%=gastrointestinal and 8%=other.
Conclusion: This demographic study describes the high complexity of outpatients receiving pediatric palliative care in UHS-CCC. The outpatient pediatric palliative population is dependent on both technology and community professionals. The death rate requires supporting patients at end-of-life.
Author
University of Texas Health Science Center San Antonio University Health System
5652 Lockhill Rd
San Antonio, TX 78240
(210) 870-8180
Co-authors
Glen Medellin MD
Jennifer Healy DO
Rachel Vandermeer MD,*
Sandra Sanchez-Reilly MD