National Seminar
Is Compassionate Pain Management Measurable?
Topic: Education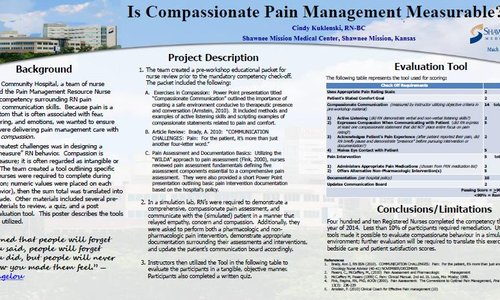 In a 500 bed Community Hospital, a team of Nurse Educators and the Pain Management Resource Nurse developed a competency surrounding RN pain management communication skills.  Because pain is a unique symptom that is often associated with fear, anxiety, suffering, and emotions, we wanted to ensure that nurses were delivering pain management care with emphasis on compassion.
In a simulation lab, RN's were required to demonstrate a comprehensive, compassionate pain assessment, intervene with the appropriate care, then communicate with the (simulated) patient in a manner that relayed empathy, concern and compassion.
One of our greatest challenges was in designing a method to "measure" RN behavior.  Compassion is difficult to measure; it is often regarded as intangible or indefinable.  The team created a tool outlining specific criteria that nurses were required to complete during their simulation; numeric values were placed on each criteria (behavior), then the sum total was translated into a pass/fail grade.  Other materials included several pre-workshop materials to review, a quiz, and a post workshop evaluation tool.  There were 410 RN's who completed the competency.
Outcome data was based on pre and post HCAHPS patient satisfaction scores.  This poster will present the tools utilized and the outcomes data.
Author
Pain Management/Palliative Care Services
Shawnee Mission Health
9100 W 74th St
Shawnee Mission, KS 66204
(913) 676-2224