National Seminar
Community Palliative Care Reduces Hospital Readmission
Topic: Health System Strategies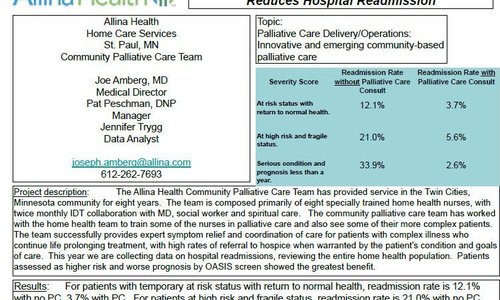 The Allina Health Community Palliative Care Team has provided service in the Twin Cities, Minnesota community for eight years.  The team is composed primarily of eight specially trained home health nurses who make home visits, with twice monthly IDT collaboration with MD, social worker and spiritual care.   The team successfully provides expert symptom relief and coordination of care for patients with complex illness who continue life prolonging treatment, with high rates of referral to hospice when warranted by the patient's condition and goals of care.  This year we are collecting data on hospital readmissions, with dramatic reductions measured for patients receiving palliative care.  Patients assessed as higher risk and worse prognosis by OASIS screen showed the greatest benefit

Results: For patients with temporary at risk status with return to normal health, readmission rate is 12.1% with no PC, 3.7% with PC.  For patients at high risk and fragile status, readmission rate is 21.0% with no PC, 5.6% with PC. For patients in serious condition and prognosis less than a year, readmission rate is 33.9% with no PC, and 2.6% with PC.  This is grand total for January to June 2015, and we continue rolling data which can be updated at the time of poster presentation.
Author
Medical Director Palliative Care
Allina Health Hospice and Palliative Care
1055 Westgate Dr., Suite 100
St. Paul, MN 55114
(612) 262-7693
Co-authors
Jennifer Trygg, Data Analyst, Home Care Services
Pat Peschman, DNP, Manager
Register Now
Register for the 2018 CAPC National Seminar and Pre-Conference Workshops by September 24 for Early Bird pricing.
Learn More and Register