National Seminar
Community Engagement Efforts in Advance Care Planning
Topic: Quality Advance Care Planning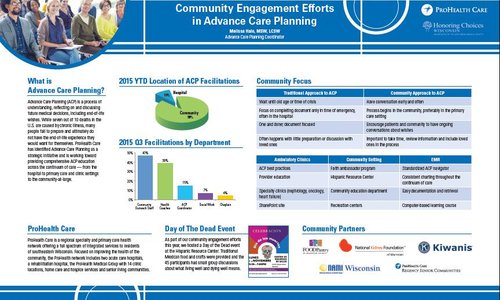 Advance Care Planning is a process of Understanding, Reflecting on and Discussing future medical decisions, including end-of-life wishes. With advancements in nearly every field of medicine in the past century patients are living longer; Yet patients and medical providers alike are often caught unprepared for their end of life or emergent medical situations. ProHeatlh Care has identified Advance Care Planning as a strategic initiative and is working toward providing comprehensive Advance Care Planning education across the continuum of care; from hospital to Primary Care to community setting.
ProHealth Care, serving patients of all ages in Waukesha County, has set a strategic initiative to educate the Waukesha community on the importance of Advance Care Planning. With partnership from Honoring Choices Wisconsin, PHC has delved into the community offering several programs and services. Such programs include partnership with local assisted living facilities, Kwanis Club, Hispanic Resource Center, local faith based organizations as well as community education classes.
Author
Advance Care Planning Coordinator
ProHealth Care
721 American Ave, Suite 508
Waukesha, WI 53188
Register Now
Register for the 2018 CAPC National Seminar and Pre-Conference Workshops by September 24 for Early Bird pricing.
Learn More and Register