National Seminar
The Comfort Care Home & Mercy Doula Training Program: Giving Individuals The Ability To Die With Dignity
Topic: Staffing Models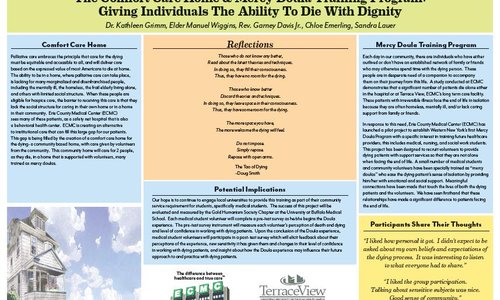 Palliative care embraces the principle that care for the dying must be equitable and accessible to all, and will deliver care based on the expressed value of most Americans-to die at home. The ability to be in a home where palliative care can take place is lacking for many marginalized and disenfranchised patients. These patients include the mentally ill, the homeless, frail elderly living alone, and others with limited social structure. When these patients are eligible for hospice care, the barrier to receiving this care is that they lack the social structure for caring in their own home, or in a home in their community. Erie County Medical Center (ECMC) sees many of these patients, as a safety net hospital that is also a behavioral health center. ECMC is creating an alternative to institutional care that can fill this large gap for our patients. This gap is being filled by the creation of a comfort home for the dying- a community based home, with care given by volunteers from the community. This community home will care for 2 to 3 patients at a time as they die, in a home that is supported with volunteers, many trained as mercy doulas.
Author
Consultant
Erie County Medical Center
462 Grider Street
Buffalo, NY 14215
(716) 472-0035
Co-authors
Chloe Emerling
Elder Manuel Wiggins
Rev. Garney Davis Jr
Sandra Lauer
Register Now
Register for the 2018 CAPC National Seminar and Pre-Conference Workshops by September 24 for Early Bird pricing.
Learn More and Register