National Seminar
Collaborative Team Activity Improves Outcomes
Topic: Quality Improvement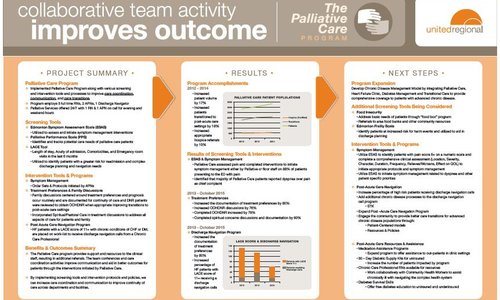 Palliative Care project teams tested and implemented various screening and intervention tools to improve care coordination, communication and care transitions.
The tools implemented included ESAS, PPS, and LACE.
We also implemented a screening process related to spiritual needs assessment and the subsequent documentation of the patients spiritual needs.
The primary outcomes of these tools provided direction on the symptoms we needed to most focus on; Dyspnea and Pain. Data indicates we have been improving our pain assessment and intervention process based on these findings.
Treatment Preference discussions occur routinely and the challenges were documenting these discussions to ensure the preferences were passed on to the next care team.  The patients who were DNR in the hospital setting are reviewed to appropriately obtain OOHDNR paperwork when applicable.   This improved the transition to post-acute care settings.
The use of the LACE tool provided a score indicating a higher risk for readmission or mortality.  The Heart Failure/COPD patients with a score of 11 or greater on our service received a post discharge phone call from the Palliative Care Team/Chronic Care Professional. Upon completion of discharge call, if a high risk for readmission is identified a referral is made to an APN for follow-up.
Author
United Regional Healthcare System
1600 11th Street
Wichita Falls, TX
(940) 764-6714