National Seminar
The Challenges of End of Life Care for Homeless Veterans
Topic: Specific Patient Populations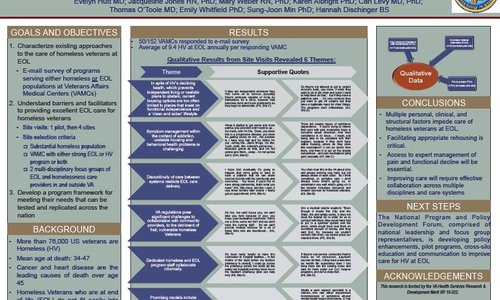 Homeless veterans approaching the end of life (EOL) may not be getting the care they need.  This study surveyed existing Department of Veterans Affairs (VA) program providers for an overview of how homeless veterans at EOL are currently getting care.  Focus groups and key informant interviews then were conducted with veterans, multi-disciplinary providers, community and VA leadership at four geographically dispersed sites.  A National Program and Policy Development Forum was convened to address the challenges uncovered.
Main Findings: VA Medical Centers treated at average of 6.5 homeless veterans at EOL annually.  Interviewees and focus group participants emphasized: (1) in spite of homeless veterans' declining health, current housing options are too often limited to places that insist on functional independence, sobriety and non-use of pain medication; (2) pain management in the context of unstable housing, behavioral health issues and addiction is challenging; (3) Discontinuity of care between system restricts EOL care; (4) VA regulations pose significant challenges to collaboration with community providers; (5) Dedicated homeless and EOL program staff collaborate informally to provide care.
The Forum is developing policy recommendations, education and pilot programs to maximize VA-community partnerships and employ peer support by formerly homeless veterans to address these challenges.
Author
Eastern Colorado VA Health Care System
1055 Clermont St
Denver, CO 80220
(720) 857-5112
Co-authors
Cari Levy MD, PhD
Emily Whitfield, PhD
Hannah Dischinger, BS
Jacqueline Jones, RN, PhD
Karen Albright, PhD
Mary Weber RN, PhD
Sung-Joon Min, PhD
Thomas O'Toole, MD