National Seminar
CARES - Palliative Care Program in the Nursing Home
Topic: Palliative Care Models by Setting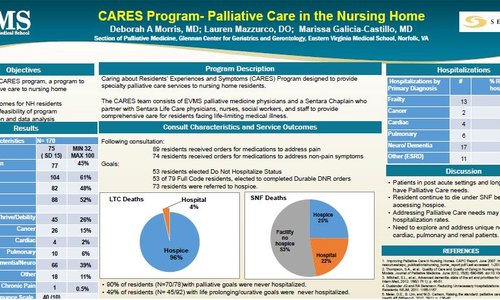 Caring About Residents' Experiences and Symptoms (CARES) is a collaborative approach to provided palliative care in the nursing home.  Sentara Life Care and  Eastern Virginia Medical School partnered together to develop and sustain a collaborative palliative care program for nursing home residents at 197 bed nursing facility., The C.A.R.E.S team consists of EVMS palliative medicine physicians and a Sentara Chaplain who partner with Sentara Life Care physicians, nurses, social workers, and staff to provide comprehensive care for residents facing life-limiting medical illness. With this collaborative program, residents facing life limiting illness are better able to understand their condition and choices for care, while they receive intensive management of their symptoms and additional social and spiritual support for themselves and their families.  We  present facility-centered outcomes and resident-centered outcomes including hospice referral, mortality, location of death, hospitalizations, and change in care plan to address symptom needs. The CARES program immediately and directly impacts the care available and received by nursing home residents. As no standardized approach to providing palliative care to nursing home residents has been adopted in community nursing home, we hope our experience can be used to assist others in meeting this need in their own communities.
Author
Assistant Professor
Eastern Virginia Medical School/Sentara
825 Fairfax Avenue 201
Norfolk, VA 23322
(757) 446-7040
Co-authors
Lauren Mazzurco DO
Marissa Galicia-Castillo MD
Register Now
Register for the 2018 CAPC National Seminar and Pre-Conference Workshops by September 24 for Early Bird pricing.
Learn More and Register