National Seminar
Building a Rural Ambulatory Palliative Care Program
Topic: Palliative Care Models by Setting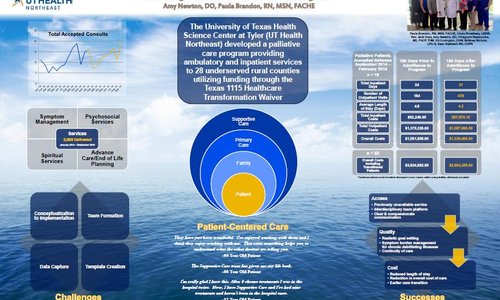 The University of Texas Health Science Center at Tyler is the sole academic medical center in the northeast Texas region providing ambulatory palliative care services to 28 underserved rural counties. This poster will demonstrate the barriers to building, program framework and guidelines, continuity of care, and challenges faced. The Palliative Care Service is an adjunct specialty service that works collaboratively with other providers to educate and create an awareness related to appropriate referrals of patients who have life-limiting illnesses. The clinic is funded through the Texas 1115 Healthcare Transformation Waiver and expands patient service access. The program's framework is built upon a patient-centered multidisciplinary team consisting of a registered nurse, social worker, chaplain, behaviorist, program specialist, and two palliative care board certified physicians. The Palliative Care Team provides patients with advance care planning, symptom assessment and management, psychosocial and spiritual support, counseling, and resource management.   Challenges that the team faced include: foundational conceptualization to operational implementation, data capture, and template creation to meet electronic medical record (EMR) documentation requirements. The challenges resulted in recommendations related to information technology support, creation of EMR templates for each discipline and the establishment of data collection methods prior to operationalization of the program.
Author
The University of Texas Health Science Center at Tyler
11937 US Hwy 271
Tyler, TX 75708
(903) 877-8930
Co-authors
Register Now
Register for the 2018 CAPC National Seminar and Pre-Conference Workshops by September 24 for Early Bird pricing.
Learn More and Register