National Seminar
Building the Business Case for Ambulatory PC Clinic
Topic: Palliative Care Models by Setting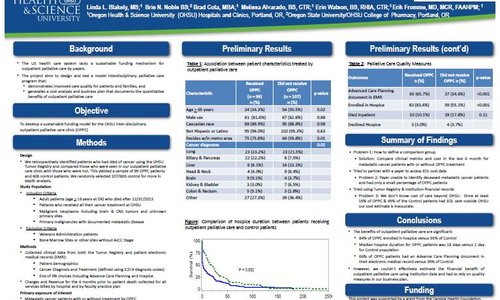 This poster summarizes our efforts to devise a sustainable business plan for an outpatient palliative care clinic housed in Oregon Health & Science University's Knight Cancer Institute.  We will share what we've learned in 3 key areas: 1) Structuring the clinic, 2) Choosing metrics, and 3) Working with our organization and with payors. Preliminary analysis of metastatic cancer patients shows lower per patient hospital costs in the last 6 months of life for outpatient palliative care clinic patients than for a control group. 
Author
Research Assistant
Oregon Health & Science University
3181 SW Sam Jackson Rd
Portland, OR
(503) 805-7817
Co-authors
Brad Cota, MBA
Brie N. Noble BS
Erik Fromme, MD, MCR, FAAHPM
Erin Watson, BS, RHIA, CTR
Melissa Alvarado, BS, CTR
Register Now
Register for the 2018 CAPC National Seminar and Pre-Conference Workshops by September 24 for Early Bird pricing.
Learn More and Register