National Seminar
A Brief End-of-Life Communication Curriculum for Internal Medicine Interns
Topic: Education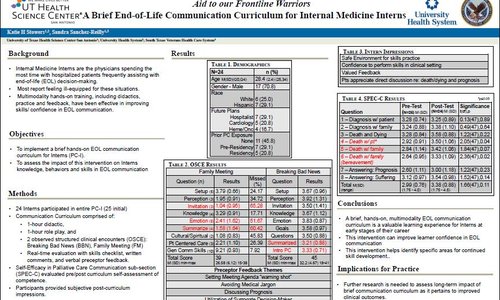 Internal Medicine Interns are the physicians spending the most time with hospitalized patients, frequently assisting with end-of-life (EOL) decision-making. However, most report feeling ill-equipped for these situations. We sought to assess a brief hands-on EOL communication curriculum for Interns (PC-I). 24 participated in PC-I comprised of 1-hour didactic, 1-hour role play and 2 observed structured clinical encounters: Breaking Bad News (BBN), Family Meeting (FM) with real-time evaluation and feedback. Pre/post curriculum self-assessment of competence was completed. Preceptor evaluation/feedback identified improvement themes: 1) Setting meeting agenda "warning-shot"; 2) Avoiding medical jargon; 3) Discussing prognosis; 4) Appropriate utilization of surrogate decision-maker. Intern impressions identified 4 major themes: 1) Safe environment for skills practice; 2) Confidence performing skills in clinical setting; 3) Valued feedback; 4) Patients/families appreciate direct conversations about death/dying and prognosis. Interns showed improvement in confidence discussing patient's death with patient (p < 0.05), with family (p=0.07), with family during bereavement (p < 0.05). A brief, hands-on, multimodality EOL communication curriculum is a valuable learning experience for Interns at early stages of their career, which can improve confidence and identify specific areas for continued skill development. Further research is needed to assess long term impact as it pertains to improved clinical outcomes.
Author
University of Texas Health Science Center San Antonio; University Health System
7703 Floyd Curl Drive
San Antonio, TX 78231
(210) 358-0594
Co-authors
Register Now
Register for the 2018 CAPC National Seminar and Pre-Conference Workshops by September 24 for Early Bird pricing.
Learn More and Register