National Seminar
Benefits of Palliative Care Consultation in a Medical ICU
Topic: Quality Improvement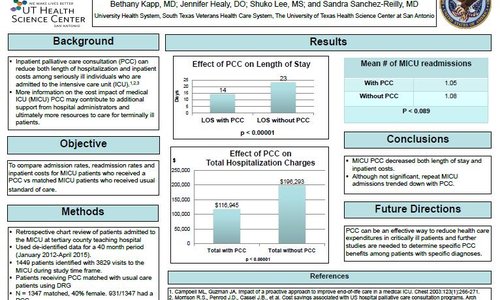 Background: It has already been documented that inpatient palliative care consultation(PCC) can reduce length of stay(LOS) and costs among seriously-ill individuals admitted to medical intensive care units(MICU). More information on MICU-PCC cost impact may contribute to additional administration support and more resources to care for terminally-ill patients.
Methods: We analyzed de-identified data for 40 month period(Jan 2012-April 2015), including all patients admitted to MICU at our academic county hospital. Of the 86,131 admissions, there were 1449 patients with 3829 visits to MICU. We matched PC-patients with standard care(SC)-patients using DRG and discarded those without 3+ matches. N=1347 matched MICU patients. 40%=Female. 931/1347=with PCC.
Results: There was a statistically significant decrease in PPC-group with Median LOS of 9 vs. 15 days in the Non-PCC group (p < 0.0001). Difference in Mean Total Charges was $79,348-with Non-PCC group at $196,293 vs. PCC-group at $116,945 (p < 0.0001). There was non-significant trend for decreased repeat MICU admissions with PCC-group Mean=1.05 and Non-PCC group Mean=1.08 (p=0.089).
Conclusion: MICU-PCC significantly decreased both LOS and costs. Although not significant, there was down trend in repeat MICU admissions with MICU-PCC.
Author
University of Texas Health Science Center San Antonio University Health System
5652 Lockhill Rd
San Antonio, TX 78240
(210) 870-8180
Co-authors
Bethany Kapp, MD
Jennifer Healy DO
Sandra Sanchez-Reilly MD
Shuko Lee MS