National Seminar
Association of Cancer Related Fatigue with Other Symptoms and Quality of Life
Topic: Quality Improvement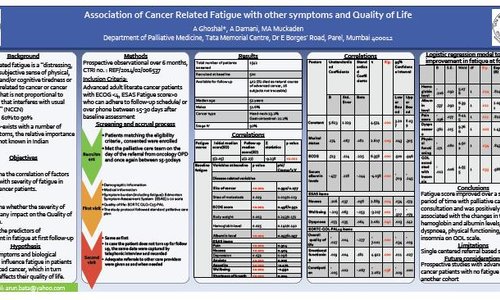 Fatigue with other symptoms affects quality of life (QOL) in advanced cancer patients. This study looks into the factors associated with fatigue, its impact on QOL at baseline and predictors of improvement of same at first follow-up visit. A prospective, observational study was conducted from January to June 2014. Registered adult advanced cancer patients with PC clinic meeting the inclusion criteria were assessed after taking informed consent for  symptom burden (ESAS) and QOL (EORTC-QOL PAL15) along with demographic details. They were given standard treatment for those symptoms. They met the PC team or were telephonically contacted for the same domains after an interval of 15-30days.  Descriptive statistics, comparison of baseline and follow up data, correlation and multiple linear regressions between fatigue and symptoms at baseline, logistic regression model to determine  factors associated with improvement in fatigue were performed. A total of 402 subjects were assessed at baseline and follow-up (median age, 52 years; 51.6% male). Significant change in fatigue score was observed at follow-up. Hemoglobin, albumin levels, type of cancer, sites of metastasis, ECOG score, body weight, ESAS items except drowsiness, overall QOL, emotional functioning and constipation were found to be significantly associated with fatigue at baseline (p < 0.05). The logistic regression model showed that changes in hemoglobin and albumin levels, pain, dyspnea, physical functioning, insomnia on QOL scale significantly contributes to the improvement in fatigue.
Author
Tata Memorial Centre
Parel Dr E Borges Road
Mumbai
Co-authors
Register Now
Register for the 2018 CAPC National Seminar and Pre-Conference Workshops by September 24 for Early Bird pricing.
Learn More and Register