National Seminar
Are Families Satisfied After Receiving "Bad News"?
Topic: Quality Improvement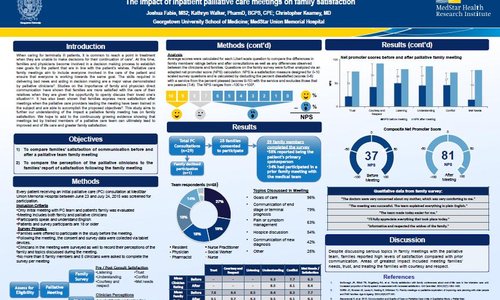 This study was designed to describe the impact of PC family meetings on family satisfaction in our inner-city community teaching hospital.
Methods: Families of patients participating in initial family meetings with the PC team between 6/23-7/24/2015 were offered to complete the survey on an electronic tablet following the meeting. Questions included a Likert scale to report satisfaction with communication before and after the meeting. Clinicians in the meeting were also surveyed to record topics discussed in the meeting. Data was analyzed using descriptive statistics. A net promoter score (NPS, range -100- +100) was calculated.
Results: Twenty eight families (n=59 respondents) participated this study. Most were the patient's primary spokesperson (58%). The most common topics discussed in meetings were goals of care (96%), end stage/terminal prognosis (79%), and pain/symptom management (63%). The greatest differences in NPS were in the following areas: met needs (∆63), trust (∆53), and courtesy and respect (∆50). The overall net promoter score of all 6 elements of satisfaction in the survey was 37 before and 81 following the PC family meeting.
Conclusion: Despite discussing serious topics in family meetings with the palliative team, families reported high levels of satisfaction compared with prior communication.
Author
Clinical Director of Palliative Care
MedStar Health
201 East University Parkway 33rd St Bldg, Suite 415
Baltimore, MD 21218
Co-authors
Christopher Kearney, MD
Joshua Fabie, MS