National Seminar
Analysis of a Palliative Care Unit's Operational Metrics
Topic: Measuring Impact and Value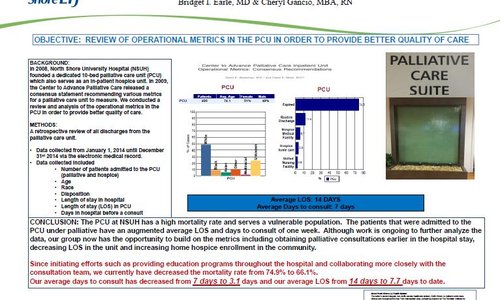 North Shore University Hospital has a 10-bed palliative care unit (PCU) with up to six dedicated in-patient hospice beds.  We conducted a retrospective review of operational metrics to provide better quality of care. We analyzed discharges from the PCU from February 1, 2014-January 31, 2015 via the electronic medical record.  Data collected included number of patients admitted to the PCU, demographics, disposition, length of stay (LOS) in hospital, LOS in PCU and days to palliative consultation. There were 705 admissions to the PCU, 487 were palliative and 218 in-patient hospice.  Average age for the groups was 75.9 and 74.1 respectfully.  The ratio of male to female was equal and most patients were white.  The mortality rate for the palliative was 61.9% and hospice was 74.9%.  The average LOS for the palliative patients was 4.8 days in the PCU and average days to consult was 7.2 days.  The patients that were admitted to the PCU under palliative have an increased LOS and days to consult of one week.  Although the data continues to be analyzed, our group now has the opportunity to build on the metrics by obtaining palliative consultations earlier in the hospital stay.
Author
North Shore University Hospital Palliative Care Unit
15 W 116st Apt 4B
New York, NY 10026
(646) 797-9401
Register Now
Register for the 2018 CAPC National Seminar and Pre-Conference Workshops by September 24 for Early Bird pricing.
Learn More and Register