National Seminar
Advanced Illness Management in the Emergency Department
Topic: Palliative Care Models by Setting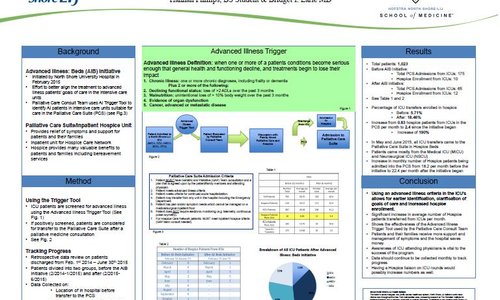 Patients with advanced illnesses visit our emergency rooms everyday without ever having had a discussion with their health care providers regarding their goals of care (GOC) and advanced directives (AD). The project goal was to identify patients in the emergency with a terminal illness, conduct and document a GOC conversation and if appropriate transfer to hospice. An interdisciplinary team (IDT) involving a hospice agency, palliative and emergency medicine was formed to identify advanced illness patients who would benefit from being directly admitted to hospice from the emergency department (ED).  From 4/13 to 12/14, 81 patients from the ED were referred directly to hospice. Since 8/14, over 95% had documented GOC discussion by ED staff. Of these, 35 were directly transferred to an inpatient hospice and 21 to home hospice. 12 patients refused services. 2 went home on home care. 3 expired prior to discharge. 8 required admission. All patients admitted had close follow up by palliative care team.  The majority of these patients died within one week. Patients with advanced illness need good GOC discussions to align with their wishes regarding end of life care. The ED can be a place to incorporate discussions and processes.
Author
North Shore University Hospital - North Shore LIJ Health System
270-05 76th Avenue Research Bldg 3rd floor, ste B379
New Hyde, NY 11040
(718) 470-3116
Co-authors
Elizabeth Kenjesky, RN
Leslie Lindenbaum
Maureen Hinkelman
Nancy Kwon, MD
Register Now
Register for the 2018 CAPC National Seminar and Pre-Conference Workshops by September 24 for Early Bird pricing.
Learn More and Register