National Seminar
Advance Care Planning in a Tertiary Care Cancer Center
Topic: Quality Advance Care Planning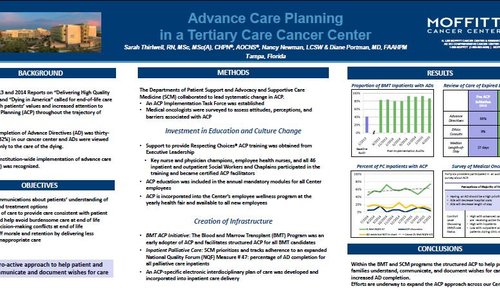 This poster will present the approach to institution-wide implementation of advance care planning (ACP) at our tertiary care cancer center.
The Departments of Patient Support and Advocacy and Supportive Care Medicine (SCM) collaborated to lead systematic change in ACP.  Support to provide Respecting Choices® training was obtained from Executive Leadership and an ACP Implementation Task Force was established.   To foster understanding and adoption of ACP, an ACP-specific electronic interdisciplinary plan of care was developed and ACP content has been integrated into the annual mandatory education requirements for all Center employees. 
The Blood and Marrow Transplant (BMT) Program was an early adopter that restructured its ACP process and increased its advance directive (AD) completion rate from 41% to 93%.  This has contributed to decreased LOS for dying patients, less compassion fatigue among nurses, and fewer Ethics Consultations. 
SCM restructured its processes to prioritize and monitor ACP for all patients.  AD status is reviewed for all SCM inpatients and the AD completion rate has increased from an average of 40% to 55%. 
Overall, a pro-active approach was adopted to help patients and families understand, communicate, and document wishes for care consistent with quality palliative care.
Author
Moffitt Cancer Center
12902 Magnolia MRC-SCM
Tampa, FL 33612
(813) 745-6045
Co-authors
Diane Portman, MD, FAAHPM
Nancy Newman, LCSW