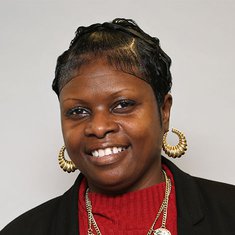 Annette Scott
As CAPC Senior Office Manager, Annette Scott creates an atmosphere of peace and keeps the office running smoothly on a daily basis. Ms. Scott prides herself on her professionalism every day while working with and supporting a diverse, strong, and intelligent team of staff and outside consultants.
Ms. Scott is the liaison between the Mount Sinai Telecom System and IT Support Department, helping to ensure that CAPC is running on a fully operational basis, from computer systems and programs to copiers, appliances, and all office functions.
Ms. Scott graduated in May 2019 from the College of New Rochelle with a BA in Liberal Arts, majoring in Psychology. She considers it a bonus of her position to be able to apply the knowledge she has obtained during her educational journey to her supportive role within a professional community.