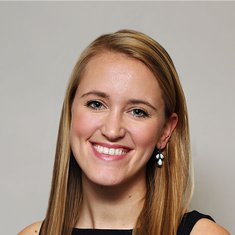 Maggie Rogers, MPH
In her role as Director of Research and Analytics at CAPC, Maggie Rogers leads the design and implementation of innovative research projects in the landscape of palliative care in the United States. Her research monitors the growth and availability of specialty palliative care and examines structures and processes, especially staffing, of palliative care programs across the continuum. Her work includes the State-by-State Report Card, among various peer-reviewed publications and presentations.
In her role, Ms. Rogers helps palliative care programs and health care organizations understand how to use data to demonstrate value to stakeholders and support quality care delivery for patients with serious illness. Ms. Rogers currently serves as the Technology Chair for the new Palliative Care Quality Collaborative (PCQC), which operates a clinical and programmatic palliative care registry. She previously directed two of CAPC's large-scale national projects, the National Palliative Care Registry™ and Mapping Community Palliative Care.
In addition to her work with CAPC, Ms. Rogers also serves as the Field Director for Ambassadors for Sustained Health, a global health organization, since 2013. Prior to joining CAPC, she worked in global sexual and reproductive health in New York City at the International Center for AIDS Care and Treatment Programs (ICAP) at Columbia and EngenderHealth. She has also served as an e-Patient Ambassador for Endwell.
Ms. Rogers graduated summa cum laude with a Master of Public Health (MPH) in Epidemiology from Rutgers University and a Bachelor's Degree in Psychology and Gerontology from Ramapo College's Honors Program.